Minor Upholstery and Repair Services
We're now very excited to offer leather and non-leather minor reupholstery and repair by our expert seamstress.  Contact us now for services including:
Replacing fabric or leather on kitchen and dining room chairs
Seam repair on cushions, pillows, jackets, and larger pieces of furniture like sofas and chairs
Handbag repair such as mending tears, replacing fabric and replacing hardware
Zipper replacement on sleeping bags, jackets and bags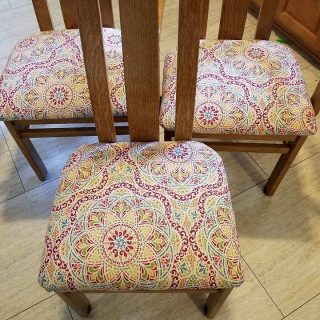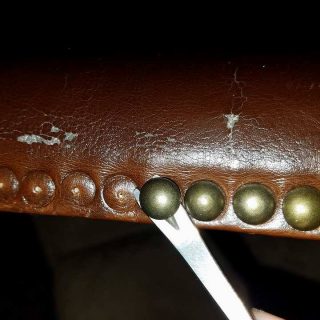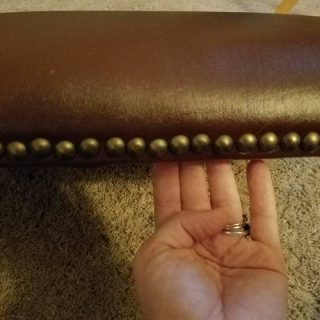 Leather Repair

Leather is often associated with luxury.  From jackets and belts, to furniture and shoes, leather makes a statement.  In clothing, it adds style and sophistication.  In furniture, it warms a room and creates an inviting space.
And … it takes a beating.  We sit on it every day.  It gets scuffed, scratched, and worn.   You can take the best care of your leather furniture, but wear and tear builds up, and accidents happen, giving your sophisticated look a noticeable black eye.
When the wear and tear of life makes its mark on your leather furniture and clothing, don't replace it.  Call the Wood and Leather Doctor.  For over 20 years, we have been repairing leather furniture and clothing to like-new condition.  We'll help you enjoy your leather articles for many years to come.
Leather Repair / Restoration Example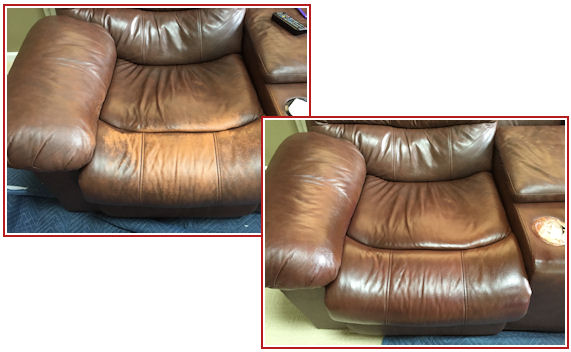 On the left we see a favorite chair.  You can virtually see the years of comfort provided.  And you can actually see the damage caused by normal wear and tear.
On the right, The Wood and Leather Doctor has restored the worn leather to like-new condition, for far less than it would cost to replace.  This chair has many more years of comfort and beauty to provide.
Don't replace it – Repair it
The Wood and Leather Doctor can restore your damaged leather furniture and clothing to like-new.  Services include:
Scratches/Nicks
Holes
Tears
Dull or hazy spots (i.e. armrests)
Color replacement on small areas
Leather jackets
Handbag repairs
Torn seams
Custom sewing projects
"Small business owner with some serious stains on white furniture. These stains were from color dye and to top it off the furniture is pure white. We hired the leather doctor with a lot of skepticism on the results. To our surprise our furniture looks brand new and all of the stains are no longer visible.
There is no doubt that hiring a professional is the key to get it done right without damaging your furniture. I am so happy I did. Hire him with confidence because I was a skeptic to begin with."
~Joe
Trust the Wood and Leather Doctor in South Jersey to repair your damaged or worn leather articles.  Call now to see how we can help restore your leather furniture, clothing, purses, and more to like-new condition.