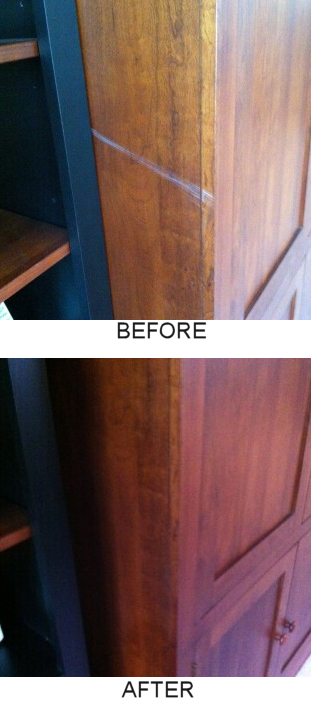 Instead of getting new furniture in Haddonfield, how about having it repaired? Sure, it may seem like buying new furniture is the best way to go, but that's only because you don't know how easy it is to have your furniture repaired. Luckily for you, if you live in or near Haddonfield, Andrew, the Wood and Leather Doctor, is in town to help you every step of the way!
New Life for your Favorite Furniture
Furniture is a huge part of a house or apartment.  It helps make it a home. So when you have to throw it away and get new pieces, it can really drag the whole place down. And often, people do this instead of repairing their old furniture just because they don't realize that furniture repair is an option. Not only is it an option, but it's an easy and affordable option. The Wood and Leather Doctor will come right to your location in Haddonfield and surrounding towns, and repair beloved furniture that you thought was gone for good.
Scuffs and scrapes on wood, rickety legs on chairs, torn and scuffed leather upholstery – this is just a short list of the repairs that could breathe new life into your furniture. With the help of the Wood and Leather Doctor, you won't notice that the furniture needed repairs in the first place! But don't take our word for it. Let's hear what previous customers had to say about their own furniture repairs.
"I contacted Andrew about a tear in our leather sofa.  He responded immediately and, after seeing a photo, offered to stop by our home to look at the damage that same day.  Andrew quoted us a very fair price and offered to do the repair immediately. He was pleasant and professional, and within 45 minutes our sofa looked new again.  I would definitely call him again."
– Christina Dunn


"For better or worse, I am one of "those customers"…demanding, exacting, and one who questions everything.  I'm also an art and antiques dealer with over 25 years of experience buying and selling museum-quality pieces.  Andrew is world-class, first-class, knows his craft, and is an expert in the field."
– Richard Rothstein
Let the 'Doctor' Repair your Furniture
Let's face it: furniture is expensive. Even at stores that claim discount prices, you could still be paying hundreds of dollars for something small, or thousands for a centerpiece. Chances are, if it weren't for the little bits of damage gathered over the years you'd love the furniture you have more than the furniture you would buy. So forget about the new stuff – get your furniture repaired instead!
Anywhere in the world, but especially in a small town like Haddonfield, furniture can make a house a home. So the next time your home is feeling lack luster because that table leg is loose or the couch covers are ripped, skip the hassle of buying new stuff. Call the Wood and Leather Doctor, and have your furniture repaired for peace of mind.