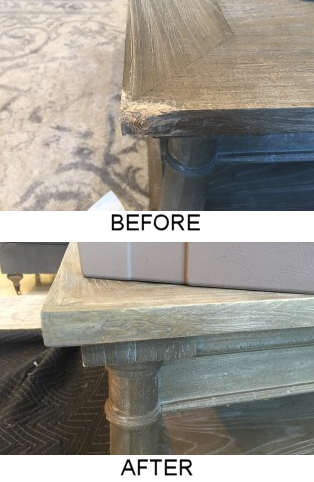 In the Medford area, there is a wonderful mix of older homes and new construction.  And both have different kinds of furniture: pieces handed down for generations as well as recently purchased, newer treasures.  And when damaged, either one becomes difficult to replace because of scarcity, cost, or discontinuation.  The Wood and Leather Doctor expertly repairs both older and newer furniture, often at your home, at your convenience.
The Remedy for Every Day Issues
Did you cat claw through your beautiful leather upholstery? No problem. Is your favorite table so old that the leg has started wobbling and won't stop? We can fix it. Loose or broken kitchen and dining room chairs that won't make it through another family gathering?  We do them every day.  If you're in or around the Medford area, The Wood and Leather Doctor is here to repair your furniture so you don't have to go through the cost and trouble of buying new.
Buying New Furniture is a Hassle You Don't Need
When you want furniture, you want it well made, you want it fast, and you want it to fit with the rest of your house. If you get it from a well-advertised furniture store boasting thousands of selections, the quality might be fair at best. At a second hand store or consignment shop, you might find a gem, but the quality isn't reliable. Plus, the chances of matching it to your existing set are dubious at best. And if you go to a high end store, you're likely to drop several thousand dollars on a piece that might be nice, but at the end of the day, you probably don't love it as much as you do the furniture you already have. Perhaps your dining room suite is terrific but 2 chairs are broken.  It's always preferable to repair them than to try to match them with another brand and style. So consider having your own furniture repaired.
Repairs are Easy and Worry Free
Andy, the Wood and Leather Doctor, comes in, repairs all manner of breaks, tears, stains and more, and will have your furniture looking better than you thought possible. Here are some reviews from some of Andy's satisfied customers:
"Wood and Leather Doctor is truly an amazing company.  There are not many businesses left that provide such great customer service.  They came to my home and repaired kitchen chairs that had some tears in the vinyl, and saved me from having to buy a new set of chairs.  You cannot tell where the repairs were made. They were absolutely a delight to deal with!" – Janet Zatz

"Andrew is a really committed and talented wood-worker who takes great pride in his work and ensuring delighted customers. He is responsive and helpful, reassuring and yet informative and his work speaks for itself. It is of a quality and caliber that is not easy to find, and more importantly very affordable too. I will definitely be giving Andrew more of my furniture to set right in the near future." – Gavin Colaco
Bring Your Home Back Together
Furniture is more than just a place to sit or to eat. Memories are made on furniture that you will treasure for years to come. So keep those happy memories alive and have your furniture repaired by The Wood and Leather Doctor right here in Medford and surrounding towns.